Hope is a revolutionary church striving to reach the 21st century with the power and
intimacy of God. It is our goal to instill the hope of a better way to a generation in
desperate need of the love of God. Through cutting edge worship, life changing
preaching, creative multimedia, visual arts, and the intensity of God's presence
colliding in every service to infuse hope in your life and empower you to reach your
fullest potential.
Worship Schedule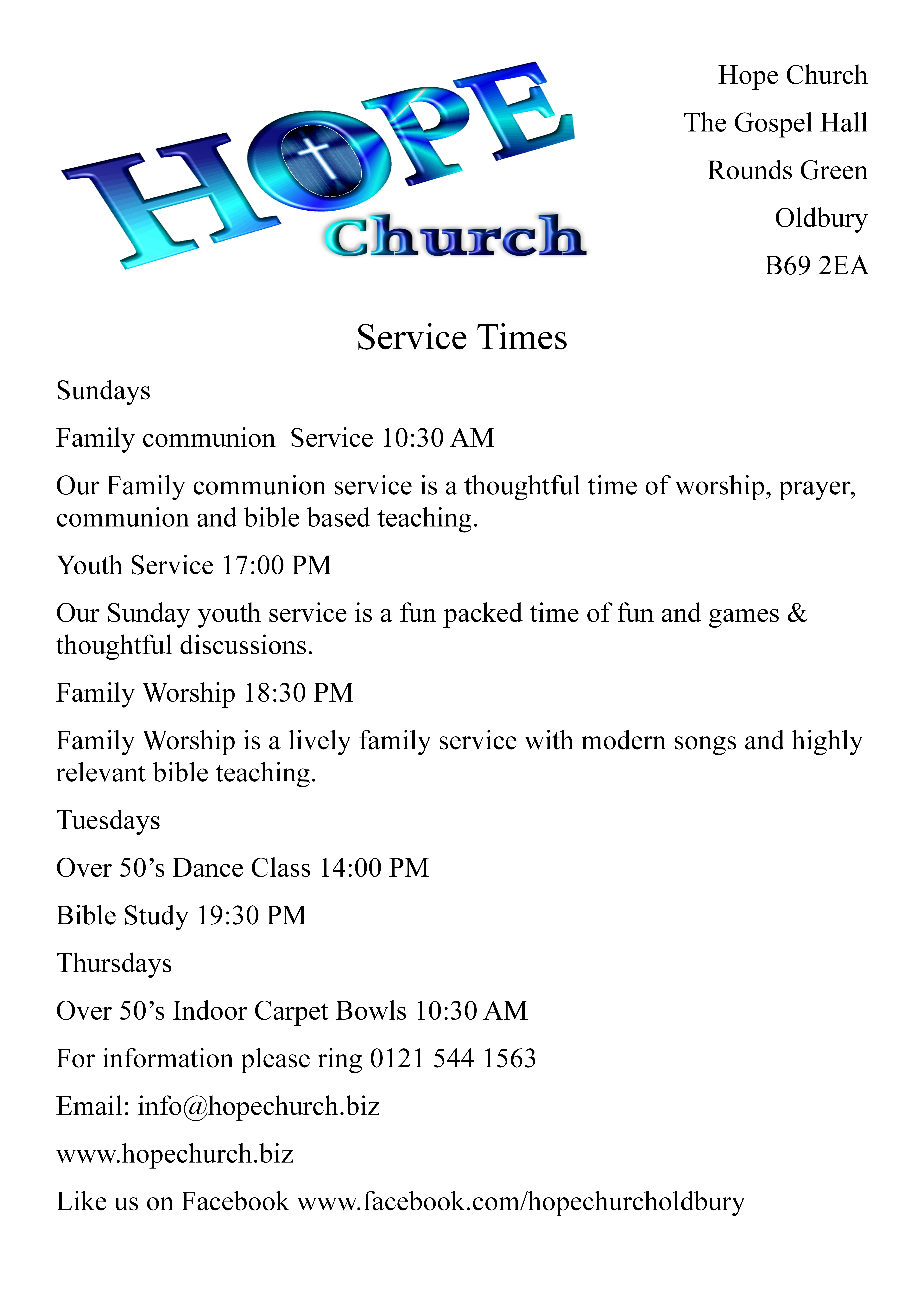 Sundays

Family communion Service 11:00 AM
Our Family communion service is where we come together for a time of worship, prayer, communion & bible based teaching.

Youth Service 5:00 PM
Our Sunday youth service is a fun packed time of fun and games & thoughtful discussions.

Family Worship 6:30 PM
Family Worship is a lively family service with contemporary worship songs & relevant bible teaching.

Tuesday
over 40's Keep Fit & friendship group 10:30 AM
Doorstep Sports Club for ages 11+ 6:00 PM - 7:00 PM
Wednesday
Stay & Play 10:00 AM

Ladies Coffee & Craft Evening 7:30 pm
Every second Wednesday of the month

Thursdays
Over 50's Indoor Carpet Bowls 10:30 AM
Bible Study 7:30 PM
Saturday
Jenz Stage School 9:30 AM - 4:00 PM

If you would like to support the work of Hope Church
we now accept donations online through paypal
just click the donate buttom on the left and a new web page will open
then just enter the amount and follow the simple on screen instructions
don't worry your deatils will be 100% safe and they are not stored on this site
Thanks.